See Full Report
*ADP Employment reports tomorrow ahead of the FOMC Decision at 2PM and non-farm payrolls on Friday.
*ADP tracks NFP over time but doesn't always predict jobs in the short term.
*As the Fed decides the language of their post-FOMC statement, ADP's outcome can matter.
ADP Employment reports tomorrow morning and can look pretty important ahead of the Fed decision at 2pm tomorrow. The Fed has backed off raising rates several times this year mainly because of weaker non-farm payroll numbers ("NFP"). ADP tracks NFP over the long term but in the short term has had a spotty track record in predicting the number. The Fed is likely on hold tomorrow. What is more important is their guidance for timing of the next hike. ADP could shade perceptions into the FOMC meeting and could factor into the Fed decision.
ADP and NFP Correlate Over Time
Here are ADP and NFP together. They correlate over longer time frames.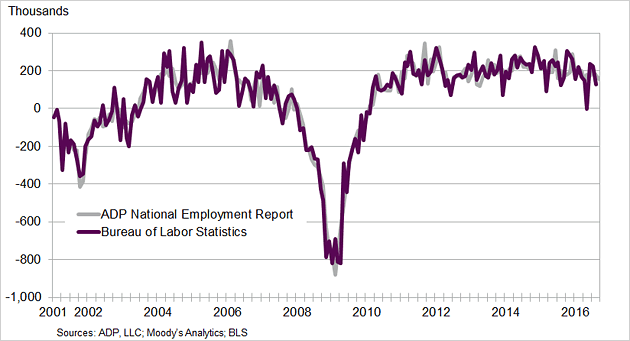 #in, $spy, $qqq, $iwm, $vxx, $ycs, $fxe, $EUO, $YCS, ^GSPC, INDEXSP:.INX, #elazaradvisorsllc, CME Globex: ES Disclosure: These trades can lose you money and principal especially when using leverage BY USING THIS SITE YOU AGREE TO TAKE ALL RESPONSIBILITY FOR YOUR OUTCOMES AND LOSSES AND HOLD ELAZAR ADVISORS, LLC AND ITS RELATED PARTIES HARMLESS