See Full Report
*The Federal Reserve of San Francisco put out some excuses yesterday why rates were not raised yet this year.
*Now that inflation and GDP are above their expectations from last year but we are four rate hikes behind schedule, this Fed report has us worried.
*To boot, if the Fed isn't already behind the curve, they stated late Friday they officially plan to be.
*Such a position can mean December's hike will be the first of many. That is negative for stocks.
The Federal Reserve of San Francisco set out to defend the Fed's lack of movement this year. They titled
their research piece
, "Has the Fed Fallen behind the Curve This Year?" They argue that their economic forecasts have come down all year which has tied their hands to raise rates. Obviously by the title this is a hot topic at the Fed. If the Fed is not already behind the curve, they plan to be. That will be a problem for markets (NYSEARCA:
SPY
)(NASDAQ:
QQQ
)(NYSEARCA:
IWM
).
Eye Off The Ball
The report says,
"Such critics have accused the Fed of reacting to transitory, episodic factors, such as financial market volatility, in a manner very different from past systematic Fed policy responses to underlying economic fundamentals."
The reason the Fed wants to tackle this issue is that if they held off from hiking rates because of reasons other than inflation and jobs, they may have fallen behind these trends.
Coming into the year the Fed planned on four hikes this year and so far have not done one. If "other" reasons kept them from raising they may have let inflation sneak higher. That would put them, as the title says, "behind the curve."
They claim not to be behind the curve based on their estimates.
They show the following grid which shows that the economy has underperformed their targets.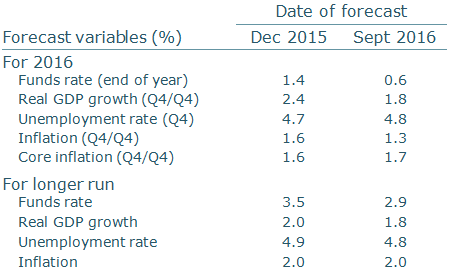 Let's review how different their economic targets actually are that held them back.
Core inflation is a touch higher than they thought. That's the rate they target more than topline inflation (1.7 above).
Unemployment is about the same.
See Full Report
Free Two Week Trial: Pro Trader On Seeking Alpha
Click here

for a free trial or send us a direct message to find out more.

Catch multi-week moves in S&P, Gold, Oil, Bonds, Apple, Amazon, and more

Clear gameplan with stop-loss, profit and confirm targets
If you want Elazar's analysis on Seeking Alpha, scroll to the top of the article and hit "Follow." Elazar also writes real-time pieces as news is reported. If you want to be among the first updated check the box for "Real-time alerts on this author" under "Follow."
Disclaimer: All investments have many risks and can lose principal in the short and long term. This article is for information purposes only. By reading this you agree, understand and accept that you take upon yourself all responsibility for all of your investment decisions and to do your own work and hold Elazar Advisors, LLC and their related parties harmless.
#in, $spy, ^GSPC, INDEXSP:.INX, #elazaradvisorsllc, CME Globex: ES Disclosure: These trades can lose you money and principal especially when using leverage BY USING THIS SITE YOU AGREE TO TAKE ALL RESPONSIBILITY FOR YOUR OUTCOMES AND LOSSES AND HOLD ELAZAR ADVISORS, LLC AND ITS RELATED PARTIES HARMLESS