See Full Report
*ADP's employment report was released this morning showing a slowing of the pace of jobs growth.
*Now both jobless claims and ADP show a slower jobs picture for October.
*If the all-important non-farm payrolls report slows, the Fed can soften their plans for a hike and their language in their statement today at 2PM.
*The Fed may already have Friday's NFP report in hand today to help them decide on that language.
We wrote yesterday
that "ADP Will Actually Matter." ADP reported 147,000 new jobs this morning. That is a slowdown and a continued downtrend from a June peak. That coincides with jobless claims that has also shown a slowing. The Fed threatened to raise rates a few times this year but backed off when non-farm payrolls ("NFP") backed off. If NFP slowed similar to ADP and jobless claims we could have softer language in today's FOMC statement at 2PM. That could be a stock market positive.
Let's look at ADP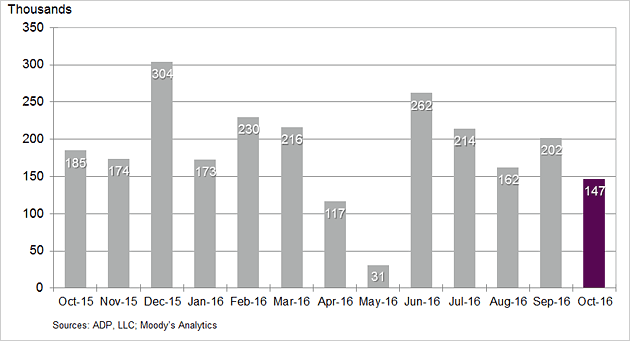 Source:
ADP.
#in, $spy, ^GSPC, INDEXSP:.INX, #elazaradvisorsllc, CME Globex: ES Disclosure: These trades can lose you money and principal especially when using leverage BY USING THIS SITE YOU AGREE TO TAKE ALL RESPONSIBILITY FOR YOUR OUTCOMES AND LOSSES AND HOLD ELAZAR ADVISORS, LLC AND ITS RELATED PARTIES HARMLESS