See Full Report
*
We wrote October 10th that we saw the dollar breaking out.
*
It has confirmed.
*
We give stop loss targets to watch for a change.
We wrote a report on October 10th called, "We Could See A Breakout For The Dollar." Since then the dollar has continued higher. There are several key reasons which we will review.
Key Reasons For The Dollar Move
*Investors pricing in a US rate hike this year.
*Possible currency safe haven after pound free-fall
*Less inflation concerns in US of late
Let's Look At The Chart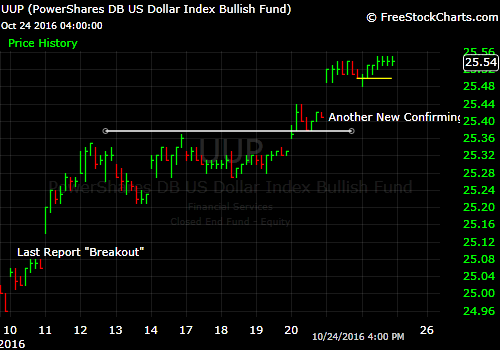 Source: FreeStockCharts.com
See Full Report
#in, $spy, $qqq, $iwm, $vxx, $ycs, $fxe, $EUO, $YCS, ^GSPC, INDEXSP:.INX, #elazaradvisorsllc, CME Globex: ES Disclosure: These trades can lose you money and principal especially when using leverage BY USING THIS SITE YOU AGREE TO TAKE ALL RESPONSIBILITY FOR YOUR OUTCOMES AND LOSSES AND HOLD ELAZAR ADVISORS, LLC AND ITS RELATED PARTIES HARMLESS