See Full Report
*We take you through each voting member's comments to decide a likely outcome ahead of the big vote.
*We factor in the slower jobs report into each voting member's opinion.
*It's down to the wire.
*That has stock market implications.
We know this next FOMC vote comes down to the wire. There are Fed officials on both sides of the fence. We wanted to tally up where we think each will come out when they cast their votes September 21. This apparently has meaningful market (NYSEARCA:
SPY
) implications because it would confirm a potential end to a historic easing period. Foreign central bank easing would also take a hit with the loss of easing momentum of a US hike. We all watch in anticipation.
We're going to try to factor in the slower NFP report for those officials who spoke before its release.
In seeing how each voting member chooses, we want to catch what they've said after the last report of non-farm payrolls ("NFP"). The last report, as we all know, showed a slowdown, but it could still be considered strong enough. For those who haven't spoken since the NFP report, we will look back to their previous comments on the subject to consider its implications on their decisions. Let's try.
The two main measures for the Fed are inflation and employment. Those are the critical factors we need to listen for.
We will take you through the opinions of each of the voting members.
Let's see how they may vote.
Kansas City Fed President Esther George
Estimated Vote: Hike
She was the only "dissenter" this year. In March, April and July she called for rate hike. We'd expect her to hold her ground with NFP just as good as it was all year.
If she voted to hike earlier in the year, the recent NFP report of 151,000 should not hold her back. Here's the NFP over the last year: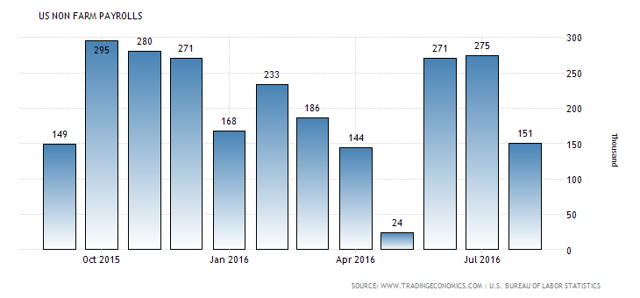 Source: Trading Economics.
The latest three-month average is faster than any time this year. If Fed President George voted for a hike already she'll likely continue to vote to raise rates again.
The following are quotes
we reported on
previously, all pulled from the video of this report (
here
):
I like others thought the process would go gradually... but excessive patience I think is not warranted as we've seen the economy continue to unfold the way it has with a 4.9% unemployment rate and inflation looking like it's moving back to target I think we should continue that process.
She wants to speed up the process to raise. This was before NFP, but we'd guess even a downshift would not deter her wanting to raise.
Be data dependent, but it doesn't mean to be immobilized by short term views, so keeping a focus on that medium term outlook... what is in the long run interest of the economy.
We wrote recently that this quote would likely be her response to the recent NFP report. Even though jobs didn't report near its highs a rate hike would still be needed.
She's a hawk. Tally: 1 Hawk, 0 Doves.
Fed Governor Jerome H. Powell
Estimated Vote: On Hold
He was interviewed on
Bloomberg Video
after Fed Chair Yellen's speech August 26. He was a dove then before NFP slowed thereafter. We'd expect him to remain a dove.
#in, $spy, $qqq, $iwm, $vxx, $ycs, $fxe, $EUO, $YCS, ^GSPC, INDEXSP:.INX, #elazaradvisorsllc, CME Globex: ES Disclosure: These trades can lose you money and principal especially when using leverage BY USING THIS SITE YOU AGREE TO TAKE ALL RESPONSIBILITY FOR YOUR OUTCOMES AND LOSSES AND HOLD ELAZAR ADVISORS, LLC AND ITS RELATED PARTIES HARMLESS