See Full Report
*Rig count is way down, much further than oil.
*The recent supply report was a surprise but could be an early sign of things to come.
*A warmer winter last year could easily switch now, alongside lower production, to lift natural gas prices.
*We think gas can diverge from oil prices.
We think that the weaker inventory report last week out of natural gas may not have been a one-time event. We see gas rig count coming down much faster than oil rigs. We also think demand has been good for gas, which is not the same for oil. Supply could easily get pulled if the weather is seasonally cool in the winter versus a warm winter last year.
Natural gas storage saw a tick down last week.
Here's the chart.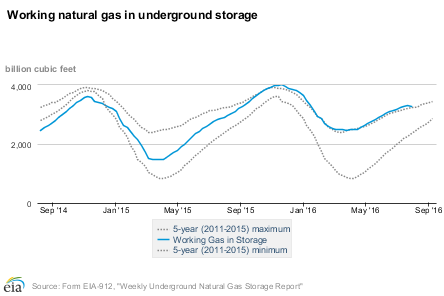 Seasonally, gas inventories typically build this time of year. The blue line above shows there was an ever-so-slight drop in inventories which surprised markets.
The EIA said it was the first time there was a nationwide draw-down in July
in 10 years
. We think that is meaningful.
The reason for the draw was strong demand (left chart). Demand was above average. The right chart shows the weekly change in July inventories. Versus the 5-year average (in tan) you can see the draw-down was very uncharacteristic. That is a bullish story.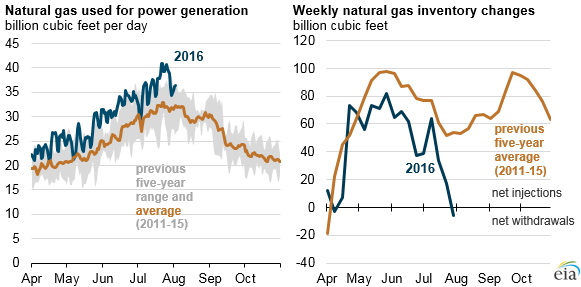 Chaim Siegel has been working with hedge funds and mutual funds as an analyst and PM his entire career. Chaim specializes in earnings and predicts, analyzes and reacts to earnings and earnings events as well as developing current company stories with a hedge fund perspective. If you want his analysis real time sign up to the right for real time email alerts. #in, $spy, $qqq, $iwm, $vxx, $ycs, $fxe, $EUO, $YCS, ^GSPC, INDEXSP:.INX, #elazaradvisorsllc, CME Globex: ES Disclosure: These trades can lose you money and principal especially when using leverage BY USING THIS SITE YOU AGREE TO TAKE ALL RESPONSIBILITY FOR YOUR OUTCOMES AND LOSSES AND HOLD BESTIDEAS, ITS CONTRIBUTORS AND ELAZAR ADVISORS, LLC HARMLESS