See Full Report
*ADP reported a slightly slower number today.
*ADP and Non-Farm payrolls correlate over the long term.
*Fed Chair Yellen likely needs 190,000 or higher for a rate hike in September.
ADP reported 177,000 for August. That was a little slower but about on trend. ADP matches non-farm payrolls ("NFP") over time. Fed Chair Yellen cited 190,000 as a three-month average in her speech and is likely a key number needed to see a rate hike in September.
ADP reports 177,000
What is more important than the report itself is what it can mean for Friday's very important NFP numbers.
The Friday numbers can move the Fed to hike or stay on hold.
Here's how well ADP and NFP have correlated over time.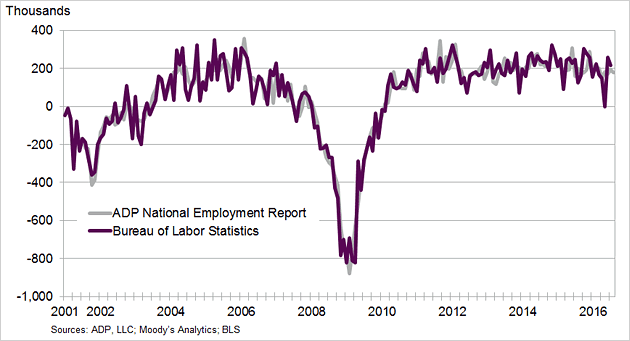 ADP (grey) and NFP (purple) have correlated over time. They do not correlate month to month but still acts as an important preview.
See Full Report
Chaim Siegel has been working with hedge funds and mutual funds as an analyst and PM his entire career. Chaim specializes in earnings and predicts, analyzes and reacts to earnings and earnings events as well as developing current company stories with a hedge fund perspective. If you want his analysis real time sign up to the right for real time email alerts. #in, $spy, $qqq, $iwm, $vxx, $ycs, $fxe, $EUO, $YCS, ^GSPC, INDEXSP:.INX, #elazaradvisorsllc, CME Globex: ES Disclosure: These trades can lose you money and principal especially when using leverage BY USING THIS SITE YOU AGREE TO TAKE ALL RESPONSIBILITY FOR YOUR OUTCOMES AND LOSSES AND HOLD BESTIDEAS, ITS CONTRIBUTORS AND ELAZAR ADVISORS, LLC HARMLESS