See Full Report
*Oil has formed a downtrend.
*The main drivers are a let up in supply disruptions, drop in demand and a pick up in supply.
*The risk is war.
*For now as long as oil remains in a downtrend we remain bearish.
*We think that the drop in oil may predict a drop in the stock market which can cycle back to drop oil further.
We have been bearish
on oil (NYSEARCA:
OIL
) (NYSEARCA:
USO
)(NYSEARCA:
UWTI
) based on price and major aspects of supply and demand shifting. Major producing countries are increasing production while global GDP appears to be slowing. Major supply disruptions have also passed. The major risk to the bear case is war, whose clamor seems to be building. For the time being oil, which trades in trends, is moving down so we expect it to continue lower.
HIGH OIL SUPPLY GLOBALLY
Global Oil Supply Still High And Increasing From Top Producing Nations
For review the
top global oil producers
are all increasing production. Russia (13% of total world production), KSA (13%) and The US (12%) are all increasing production. With oil prices dropping further we guess that production will be biased higher as producers make up for the lost price.
There is no supply consensus in OPEC and their next meeting is not until November 30th. KSA we think is disappointed not to have consensus and so is back to push production to support their weakening economy (
as we've reported
).
We don't have anything telling us that supply is coming down from OPEC. We wrote last week that Iran, Saudi Arabia ("KSA"), the US, and the globe in general have higher production.
A recent report out from Goldman Sachs shows Russia increasing production every day for the next couple of years. The report states that the Russian cost is $10 per barrel so they have no problem pushing production (
Bloomberg
).
So we have the main producers all pushing supply.
US still has higher oil production with the risk for it to stay up.
US supply issues linger. While
rig count
is way down year-over-year (-414) it's stubbornly moving up of late (+15). This shows up in the chart below.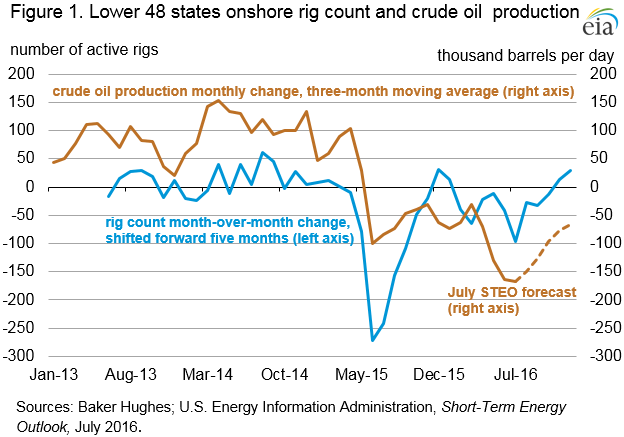 Chaim Siegel has been working with hedge funds and mutual funds as an analyst and PM his entire career. Chaim specializes in earnings and predicts, analyzes and reacts to earnings and earnings events as well as developing current company stories with a hedge fund perspective. If you want his analysis real time sign up to the right for real time email alerts. #in, $spy, $qqq, $iwm, $vxx, $ycs, $fxe, $EUO, $YCS, ^GSPC, INDEXSP:.INX, #elazaradvisorsllc, CME Globex: ES Disclosure: These trades can lose you money and principal especially when using leverage BY USING THIS SITE YOU AGREE TO TAKE ALL RESPONSIBILITY FOR YOUR OUTCOMES AND LOSSES AND HOLD BESTIDEAS, ITS CONTRIBUTORS AND ELAZAR ADVISORS, LLC HARMLESS