See Full Report
*We think oil has started a downtrend.
*Friday's jobs number could be one catalyst but there are many.
*As important as any is a confused dollar.
*KSA may not yet be holding to their plans to end the price war, which for us would be meaningful.
We may have passed the period of supply shocks for oil and entered into a period of global weakness becoming the most important factor. We see negative stock market divergence as an early confirmation of a new oil downtrend. That said, we are going to continue to let weekly price dictate direction because we think oil is one commodity where price can define itself.
Oil Divergence From Stocks: First Time Since Oct '15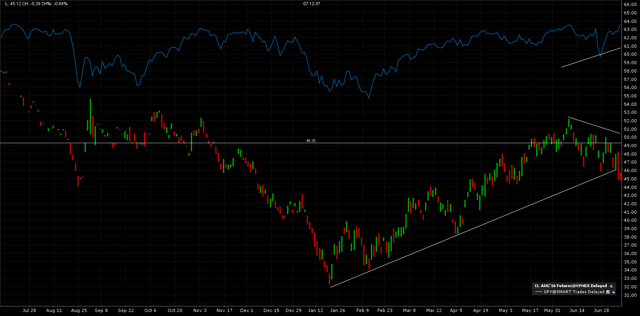 While oil outperformed this year, oil and stocks (NYSEARCA:
SPY
) (in blue) have been moving together. This is the first apparent divergence other than the month of October 2015.
While equity investors reacted positively to Friday's jobs report, oil sold off. We'd guess the reason is that the jobs report could mean a
US rate hike
which would lift the dollar and slow growth.
Dollar Is Confused Post-Brexit Yet Oil Has Turned Down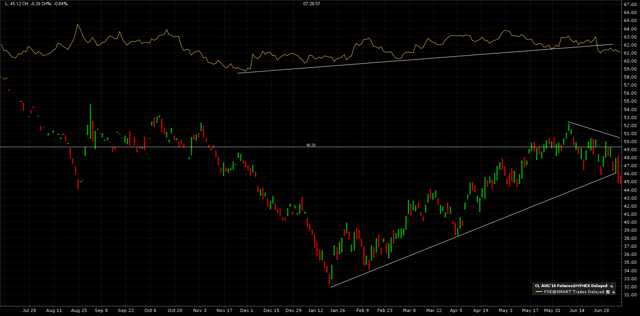 Chaim Siegel has been working with hedge funds and mutual funds as an analyst and PM his entire career. Chaim specializes in earnings and predicts, analyzes and reacts to earnings and earnings events as well as developing current company stories with a hedge fund perspective. If you want his analysis real time sign up to the right for real time email alerts. #in, $spy, $qqq, $iwm, $vxx, $ycs, $fxe, $EUO, $YCS, ^GSPC, INDEXSP:.INX, #elazaradvisorsllc, CME Globex: ES Disclosure: These trades can lose you money and principal especially when using leverage BY USING THIS SITE YOU AGREE TO TAKE ALL RESPONSIBILITY FOR YOUR OUTCOMES AND LOSSES AND HOLD BESTIDEAS, ITS CONTRIBUTORS AND ELAZAR ADVISORS, LLC HARMLESS