See Full Report
*ADP and jobless claims both came in strong.
*The Fed pulled a rate hike "off the table" because of last months weak non-farm payrolls.
*If Friday's non-farm payrolls are like today's look out markets.
*It would mean a chance for another rate hike. December's hike was 100%, this one is 50%. What damage is in store.
*Short S&P 500.
Jobless claims of 254k reverses a weakening trend. ADP came in at 173k was a jump from last month's 156k. If tomorrow's non-farm payrolls bounces back like these did, we could have a rate hike back "on the table" which would hit markets.
Here's the previous trend in jobless claims. You can see the 254k is sending the trend back down. Less people filing for jobless claims insurance is an economically strong metric.
The 254 reported this week trends the jobless claims chart back down. Less jobLESS claims is more jobs (Less - less = more).
This is an amazing chart comparing ADP to tomorrow's non-farm payrolls numbers.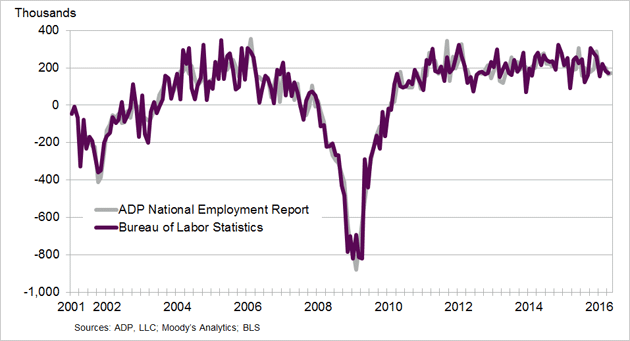 You can see they track pretty closely. That would mean that the strong number in ADP could coincide with a strong non-farm payrolls number Friday.
See Full Report
Chaim Siegel has been working with hedge funds and mutual funds as an analyst and PM his entire career. Chaim specializes in earnings and predicts, analyzes and reacts to earnings and earnings events as well as developing current company stories with a hedge fund perspective. If you want his analysis real time sign up to the right for real time email alerts. #in, $spy, $qqq, $iwm, $vxx, $ycs, $fxe, $EUO, $YCS, ^GSPC, INDEXSP:.INX, #elazaradvisorsllc, CME Globex: ES Disclosure: These trades can lose you money and principal especially when using leverage BY USING THIS SITE YOU AGREE TO TAKE ALL RESPONSIBILITY FOR YOUR OUTCOMES AND LOSSES AND HOLD BESTIDEAS, ITS CONTRIBUTORS AND ELAZAR ADVISORS, LLC HARMLESS