See Full Report
*Supply disruptions sent oil up so far this year.
*Brexit could drive demand concerns.
*Short term, we'd expect oil to be weak with markets and trade lower.
This week we expect oil to go lower (NYSEARCA:
USO
)(NYSEARCA:
OIL
). After a long run up from its lows (almost 80%) we think as the market sells off it will take oil with it. The main driver up this year was driven by supply concerns. We think, near term, the concern of global slowdown will take it down.
That said, we expect this to be a fluid process which is why we want to look at it on a weekly basis.
Supply Concerns Drove Oil Price This Year
We think most of the oil move higher this year has been driven by supply disruptions.
*Middle east
*Nigeria
*Canada
Here's how the EIA described it.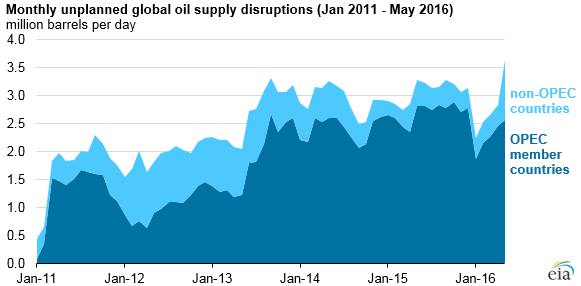 See Full Report
Chaim Siegel has been working with hedge funds and mutual funds as an analyst and PM his entire career. Chaim specializes in earnings and predicts, analyzes and reacts to earnings and earnings events as well as developing current company stories with a hedge fund perspective. If you want his analysis real time sign up to the right for real time email alerts. #in, $spy, $qqq, $iwm, $vxx, $ycs, $fxe, $EUO, $YCS, ^GSPC, INDEXSP:.INX, #elazaradvisorsllc, CME Globex: ES Disclosure: These trades can lose you money and principle especially when using leverage BY USING THIS SITE YOU AGREE TO TAKE ALL RESPONSIBILITY FOR YOUR OUTCOMES AND LOSSES AND HOLD BESTIDEAS, ITS CONTRIBUTORS AND ELAZAR ADVISORS, LLC HARMLESS